Excited about Fifa World Cup? Play these games for more fun!!
Soccer Drills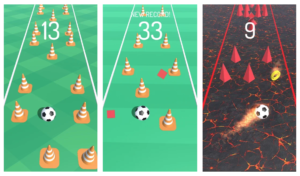 Soccer Drills is a unique game that has the apparent simplicity of a single tap game but also cleverly engineered to be difficult enough to make it challenging to players of all skill levels. It's the hunger and feeling going back to the game and trying to score more that made is so popular. Players are presented with newly designed soccer balls and playing fields as they progress higher within the game challenges. There is growing community of engaged players who don't feel shy in sharing their scores via the leaderboard. The ability to collect coins and using them to unlock balls and playing fields makes Soccer Drills even more exciting and immersive to the players.   
Download from here :


Penalty Shootout
Penalty Shootout Vs Goalkeeper is a simple soccer game where you can play as a goalkeeper or a penalty shooter. Goalkeeper's challenge is to keep the soccer ball out of your nets. Penalty shooter's challenge is to shoot to the target and score by swiping on the screen!
Because of iOS Metal graphics library it renders on iPhone very smoothly. It supports iOS 11. With the help of Game Center users can easily share their high score and unlock exciting achievements!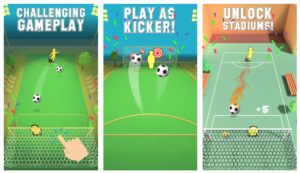 Download from here :


Soccer Dribble
Soccer dribble is a simple soccer game where you have to dribble and avoid other players from collision.
Game Key Features:
– Free to play
– Simple but addictive sports game
– Great game for kids and everyone
– Fool the opponent by your dribbling skills
– Based on real soccer physics
– Real-time and competitive game
– Cheering audience included
– Awesome gameplay with minimalist control
– Become a pro, and improve your high score
– Beat your friend's high score
– For mobile and tablet
– Play offline. No Wifi No Tension!
– Unlock new fields.
– Realistic & amazing ball physics
– Customized gaming system
– Simple & fun gameplay
– Enjoyable for soccer fans of all ages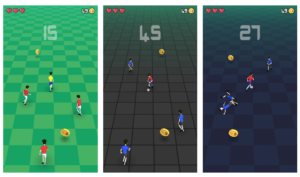 Download from here :